Welcome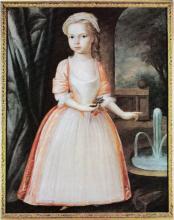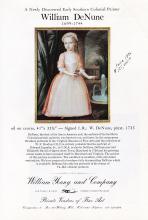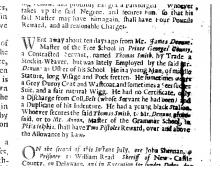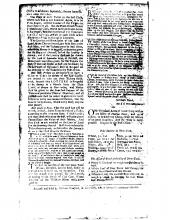 The Father of Dr. William Denune, the emigrant
Now proven by DNA to be Minister William Denune
Dr. William Denune was a Scotsman who came to Maryland after his Medical School graduation in Paris France in 1721, and may have came from Scotland to Maryland about 1724. "Denune" is a name derrived from a place in Scotland. He came first to Queen Anne County; Eastern Shore, MD. The register at St. Barnabas' Church, Queen Anne's Parish, in Prince Georges County shows that William Denune (a Scotsman) married Elizabeth Duvall, 24 February 1728. The Denunes shared pew #12 with Mr. William Fowler, and Mr. Mark Brown.
Like most physicians of that day, he maintained a plantation or two and followed agricultural pursuits along with his medical practice. Dr. William was also an early American painter. This painting, oil on canvas 41"x32 3/4", signed R.:W. DeNune, pinxt. 1735, was done in the Southern Colonial style, and offered for sale by William Young & Company in 1976.
Like his father in law, Mareen Duval the younger, Dr. William was a slave owner, and these were their names; Sacose, Johnny Boy, Toby, Robin, Will, Tony, Peter, Mingo, Samson, Jacob, Simon, Betty, Jenny, Hester, Janu, Kate, Sary and Jemey.
James Denune
In 1738 Dr. William Denune paid for the burial of James Denune. We don't know what relationship Dr. William Denune had with James. Did James come to America with William? James died by 6 Feb 1738. John Lomas and John Ramsay appraised his personal property at £151.7.9. William Denune signed as next of kin. Rebecca (Woodall) Denune, filed the inventory on 30 Aug 1739 (MINV 24:152). Rebecca (Woodall) Denune, widow, filed the account of James Denune, Gent., on 2 Nov 1739. Out of the inventory cited above, she made payments of £165.4.5 (MDAD 17:291).
This James Denune was Master of the Free School in Prince Georges County, MD. In 1729 he advertised for the return of a runaway indentured servant, Thomas Smith, a stocking (linen) weaver, who had recently been an usher at the school. James Denune's ad appeared in this 2 page issue of Bradford's New-York Gazette 7 July 1729, the first paper published in New York State. When you read the ad, remember that the old English 's' looks a lot like a modern 'f' without the horizontal stroke. Also, the ad includes a few archaic words. I would translate, "... long visage and pock fretten." as, a long face with a scars from Smallpox.
After the death of his father William, jr. inherited his father's property. So, immediately after his father's death, or on June 7, and December 7, 1763; he sold to Henry Hall one of his parental plantations. Elizabeth Denune waived dower before two Justices of the Peace. On October 12, 1765 he sold to Richard Butt, land adjoining his property, and on April 19, 1766 he mortgaged slaves to Ann Brown. For a number of years the members of the family were reduced to tenant farmers in Maryland, and the family seems to have disintegrated. It was not until the mid 19th century that some of the descendants retrieved their former position.
William, jr fought in the French and Indian war and enlisted in the Continental Army as a resident of Prince Georges County. William was a revolutionary war minuteman who marched from Maryland to Boston for the Battle of Bunker Hill and probably died at Valley Forge, PA, in the Winter of 1777-8.
On March 1, 1780, John Duvall Denune, then 13, claimed to be born in 1765, making him 15, the minimum age of enlistment, and joined the Continental Army, 6th Maryland Regiment as a musician. He played the drum and fife, under Captain Henry Dodson. Young and fearless, John became an expert horseman, and could ride a galloping horse with neither saddle or bridle. John had many close calls, sometimes with the English, other times with the Indians. An account of John escaping from the Indians was published in an early reader. Lucy Washington (Denune) Agler, a daughter of John, gave this reader to her daughter Livinia (Agler) Cornwall, who treasured it for many years. Here is a list of early American readers. Many should be available online. I would dearly love to find where this story was published.

early American readers (14.33 MB)
After the Regiment had been decimated at the Battle of Camden (August 16, 1780), the surviving members were formed into a company of the 2nd Maryland Brigade and attached to Colonel Williams' Regiment of infantry. He was discharged November 1, 1780, but continued to fight in the Southern Campaign. He fought at the Battles of Guilford Courthouse (March 15, 1781), The Siege of Ninty-Six (May 22 – June 18, 1781), and Eutaw Springs (September 8, 1781) where Captain Dodson was killed and his lieutenant, John Lynn was wounded. After the battle his company retired to the hills of Santee where he received a furlough. On January 1, 1782, a month or two after returning home he enlisted as a fifer in the 1st company, 2nd Battalion, commanded by Captain Edward Trueman, Lieutenant Jacob Crawford, and Ensign Charles Skirvins. He was later assigned to the company of Captain Edward Spurrier with Lieutenants Joshua Rutledge and Robert Halkerson. He was stationed at Baltimore, and with several companies, his outfit marched under Major Lansdale to Newburg where General Washington was in command. He was discharged June 1783 at Baltimore. After the war he returned to Prince Georges County, and on January 17, 1798 he secured license to marry Sarah Burrell. The first three children were born in Maryland, but about 1806 he and his young family migrated westward, and ultimately settled in Franklin County, Ohio, now a part of the City of Columbus. Injured in the war, and with many children to feed, he was a poor farmer with more debts than assets. In 1818, at the age of 52, he applied for, and received a pension for his military service. Charles County Gentry incorrectly states that John has an impressive monument at Riverside Cemetery, Mifflin Township, Franklin County, Ohio. The impressive monument is that of his son, A. B. Denune. John is burried at Riverside, but the Cemetery has lost track of the location of his grave, however there is a plaque honoring John and other veterans.

John Denune Pension Application (95.87 KB)
  
Able has been a leader LED signs for over 30 years, with offices and manufacturing facilities in the US, UK, Mexico, Australia, and China. They came to Columbus in search of a site for their international headquarters, and purchased the old Denune Lumber Company property, on Denune Avenue, in the East Linden neighborhood. The Able staff discovered denune.org, downloaded and framed numberous images, and invited us to be surprize guests for the owners, Michael McNamara and Roberto Santini. A  lovely catered lunch was served, where we met Able's gracious staff, local leaders, and were treated as honored guests. The event coincided with Able's donation of numberous new bicycles to children of the neighborhood. A hearty congratulations to Able for investing in East Linden, built by my G Grandfather, J B Denune. Linden was J B's portion of his father', A B Denune's farm. This Beautifully restored site was dedicated November 11th, 2022
John Denune, your webmaster, philatelist specializing in Christmas Seals for collectors
Telephone
740-814-6031
Postal address
234 East Broadway, Granville, OH 43023
Christmas Seal is a registered trademark of the American Lung Association