Mr. William Denune
Pencaitland Parish Church, Scotland
Mr. William Denune, 1656-1704 was the Minister of the Pencaitland Parish Church from 1685-1704. DNA verified that he was the father of Dr. William Denune, the immigrant to Colonial Maryland. This Minister William Denune is included in a line of Denunes from The Baronage of Scotland.
Pencaitland Memorial Inscription inside the church, east nave.

Pencaitland Parish Church Graveyard Inscriptions (775.18 KB) - See last page of this document for "Denune" inscription
DENUNE:HEPBURN - A Translation from Latin with acknowledgement to the Haddingtonshire Courier.
"Here the victorious spirit of Mr. William Denune, who was for 19 years minister of the Parish, laid aside his earthly tabernacle. He was a true preacher of the gospel both by the sweetness of his manners, the persuasive eloquence of his tongue, and by the whole tone of his life. In the joyful and sorrowful changes in the church he calmly did his duty. He was helpful to his friends, instructed his own people by his example, and communicated to others the knowledge which he himself had acquired. And so he exchanged his natural cheerfulness of spirit for the highest joy about the beginning of February in the year of our Salvation 1704, in the 48th year of his age. His mourning widow (Isabel Hepburn) like-minded companion of his life, the beloved mother of his eight children, was buried with honour and tears among the ashes of her husband William, and her son William, of John and Helen who predeceased her."
This memorial to the Rev. William DENUNE, minister (1685-1704) who was buried there and also a burial place of certain members of his family, is a lapidary record of an historical event in the history of Scottish Presbyterianism. Rev. William had been an Episcopalian Minister in Haddington before he was called to Pencaitland where he ministered for ninteen years. 
In the days of the Stuart rulers, Presbytery was set aside and Episcopacy established and it was not until the Stuart dynasty was overthrown (1688) and the House of Orange set up, that Presbytery was restored. In 1691, A Second Vindication of the Church of Scotland was published. In the preface, Minister William Denune is listed as a "presentor", asking for himself and other Episcopalian ministers, to be allowed to act as a Presbyters. See page 4, below. Denune's plea was rejected because even though they swore alegiance to the new monarchy, and rejected popery (Roman Catholicism), other sects also rejected popery, some ministers on the list served in the north where this council had no authority, one minister had already been removed, but the council felt the plea wasn't clear enough in accepting the authority of the new Presybterian church government. Then, in 1695 an Act was passed which permitted Episcopal Ministers who refused to conform to Presbyterianism to keep their livings if they "conformed to the Civil Order of things".  Rev. DENUNE conformed and in consequence, although an Episcopalian, he retained the living at Pencaitland.   

A 2nd Vindication Church of Scotland, preface (5.18 MB)
He died very early in 1704 when he was in his 48th year.  The Church was declared vacant on 30th January 1704.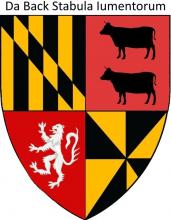 The conviction for cattle rustling caused the Campbell aka Denune brothers to flee Argyll. They settled in Ross-Shire, eventually moving to colonial Maryland.
Just for fun, I created a fanciful coat of arms*, as a real one would cost several thousand dollars, and could only be displayed by a very limited number of people. This coat of arms* is for Denune, Denoon, and DeNoon people everywhere! The Latin inscription is a plea for reparations (Ha Ha) to the 1st Earl of Argyll and his progeny, kinsman to Donald and Duncan Campbell aka Denune, "Give Back our Livestock". 
Campbell of Denoon
A History of Clan Campbell is an authoritative history of Clan Campbell in 3 volumes. The author, Alastair Campbell of Airds was Chief Executive of the Campbell Clan and was in charge of the Argyll Archives for thirteen years.
Research carried out by the College of Arms in London established a new house within the Campbell Clan, tracing the "Campbell of Denoon". This group is descended from David Campbell alias Denoon who lived at Hilton, Tain, and who died at age 65 in 1793 and was buried at the churchyard at Fearn in Easter Ross. This David was descended from a later group of Campbells, who took the name Denoon, and fled to Ross shire after one of the Jacobite rebellions in the 18th century. One of David's descendents, the grandson of a Scottsman who emigrated to Australia, Alfred Campbell, took out Arms, at the College of Arms in London in 1838, and matriculated as, "Campbell of Denoon".
It is curious that two different groups of the Campbell family, though a common name, assumed the name Denune. We are not descended from this later branch of the family, but from Duncan Campbell aka Denune who fled Dunoon prior to 1500.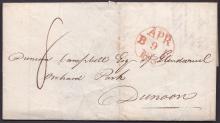 Duncan Campbell Esq. of Glendaruel 1727-1814
Being a stamp collector, I couldn't resist this 1813 stampless cover. Glendaruel is a cadet branch of the Campbell Clan Chief/ Duke of Argyle. Sent from John Campbell, advising Duncan not to be in a hurry to build a house for Black your ferryman. This Duncan Campbell of Glendaruel was the 4 great grandson of Archibald Campbell, Laird of Lochnell 1530-94. Sent to Dunoon over 300 years after our Duncan Campbell AKA Denune escaped justice; they could have been distant cousins. Our Duncan Campbell, AKA Denune's ancestry back to "his kinsman" the Earl of Argyle is unknown. If anyone can offer help it would be MUCH appreciated!
With the help of a DNA Genealogist, our family, (and many Denunes/ Denoons in America), was able to find our ancestors in Scotland.
Jason Booth of FoundByDNA.com, is a Genealogist who specializes in helping adopted persons and experienced researchers alike with family mysteries and brick walls.  He uses specialized DNA analysis techniques and interprets the enormous files that are part of all DNA tests, drilling down to the chromosome level. With the help of distant cousins from all over the world who also took DNA tests, Booth's work first verified some things the family already knew.
That John B Denune (Generation 7, born 1926) was descended from Dr. William Denune (Generation 1, born 1699), and because John had a double dose of Duvall DNA, referred to as a "Collapse", Jason independently verified his Duvall line back to the 1600's.
The new discovery was that Dr. Denune, the immigrat to colonial Maryland was DNA verified to be the son of Mr. William Denune (Generation 0, 1656-1703), minister of the Pencaitland Parish Church in East Lothian, Scotland. DNA also verified that he was a direct descendant of Minister William Denune's mother, Catherine (Munro) Denune. This work has also revealed emerging DNA support for ancestors Isobel (Hepburn) Denune, wife of Minister William Denune and Norman Denune (minister William's father, husband of Catherine Munro).
John Baughman Denune (Generation 8, your webmaster) continues the story:
"We we're reaching the limits of how far back in time autosomal DNA could be used to reasonably triangulate our oldest ancestors. So Jason advised us to use the 23andMe DNA test because it also tests for the X and Y Haplogroups. This X & Y DNA goes back for thousands of years. So, if we are descended from a long line of women on our matrilineal line, ie., daughter of the daughter of the daughter, they all share the same X haplogroup. Similarly, if we are descended from a long line of men on our patrilineal line, ie., son of the son of the son, they all share the same Y haplogroup." Jason is currently comparing our specific Y haplogroup result of R-Z19 from 23andme with other Denune / Denoon males and other families with the same exact Haplogroup. Regardless of what your surname is, if you also belong to the rare Y haplogroup R-Z19, please feel free to contact Jason at Boothmultimedia@comcast.net.  If "The Baronage of Scotland" by Robert Douglas (1798) is to be believed, the Denune's can go back seven more generations to Duncan Campbell's mother, Mrs. Denune (Generation -7). Duncan assumed his mother's maiden name, Denune, and fled with his brother, Donald, to Easter Ross where they made their home in Cadboll. We look forward to learning if the DNA confirms this or instead unveils exciting new revelations about our oldest ancestors."


Baronage of Scotland Denune Line (74.28 KB)
The Baronage of Scotland, Denune line
Denune of Catbole, &c.
The sirname Denune is of great antiquity in Scotland, is local, and was assumed by the proprietors of the lands and barony of Denune in Argyleshire, as soon as sir names became hereditary in this country, though these lands afterward became the property of the family of Argyle.
Sir Arthur de Denune, flourished in the reign of King Alexander III, and had the honor of knighthood conferred upon him by that prince, whom he survived several years.
In a charter of James Lord High Stewart of Scotland, confirming the donations of his predecessors to the Monastery of Paisiey, the witnesses are, "Robert bishop of Glasgow, John brother of the Lord High Steward, Sir Arthur de Denune, Sir Nicholas Campbell, and Sir Reginald de Crawford, knights, William de Shaw, Alexander de Normanville, &c. esquires," anno 1294.
This Sir Arthur was afterward, with many of his countrymen, compelled to submit to King Edward I of England, anno 1296.
At the same time, Guy de Denune was also forced to swear fealty to the said King Edward anno 1296
Whether Sir Arthur de Denune and Guy were brothers, we cannot determine, but it's believed that, of these two, most of the Denunes in Scotland are descended, whose posterity have been free barons in different counties of this kingdom, some centuries ago.
The lands and Castle of Denune have been long the property of the family of Argyle, as before observed. They have a tradition handed down by their bards and sennachies, which is still believed, viz. That a younger son of the family of Argyle was appointed heretable governor and keeper of the Castle of Denune. Duncan Campbell, one of his posterity, having had some feuds with his neighbours, also vassals of Argyle, committed several depredations and drove their cattle into his cattle, &c. which the earl of Argyle highly resented, and had the governor, though his kinsman, tried, condemned, and ordered to be drowned in the water of Clyde, &c. However, Duncan had the good fortune to make his escape, and fled to the north country, where he settled, and his mother having been a daughter of the family of Denune, he assumed that for his sirname, which his posterity enjoyed ever after, but they retained the armorial bearing of the Campbells, their paternal ancestors.
This Duncan had a brother, Donald, who accompanied him to the north, and also assumed Denune for his sirname. He being bred to the church, and a man of parts and learning, became abbot of Ferne in Rossshire, where he acquired considerable wealth.
Duncan, the governor, now Duncan Denune, was the immediate ancestor of this family, and was father of
Andrew Denune, afterwards of Catbole, who lived in the reigns of King James IV, and V. He acquired from his uncle Donald the abbot, the lands and barony of Catbole in Rossshire, anno 1534, which became the chief title of his family. Contemporary with this Andrew, lived Sir David Denune, also settled in the north country, who was possessed of a considerable estate, which appears by two charters under the great seal, domino Willielmo de Denune, of the lands and barony of Pittogarty, the village and lands of Pitnellie, Balnacouth, &c. in the shires of Ross and Inverness; one dated in the year of 1538, and another in 1540, but we can give no account of his posterity. Andrew of Catbole died in the beginning of the reign of queen Mary, leaving issue a son,
John Denune of Catbole, who succeeded him, and married Catharine Ross, a daughter of the ancient family of Balnagowan, which is instructed by a charter under the great seal, Johanni Denune de Catbole, et Catharine Ross ejus sponse, terrarum de Arkbole, &c. &c. in the shires of Ross and Inverness, dated 12th April 1556. By the said Catharine Ross he had two sons; 1) John, his heir. 2) Andrew, who carried on the line of his family, as will be shown hereafter. He died in the reign of King James VI, and was succeeded by his eldest son,
John Denune, the third baron of Catbole, who never married, but resigned his lands in favours of his brother Andrew, anno 1589, whereupon he got a charter under the great seal, hereafter narrated. He dying without issue before the year 1604, was succeeded by his brother,
Andrew Denune, baron of Catbole, who got a charter under the great seal, confirming a charter of vendition and alienation to his grandfather, from Donald Denune abbot of Ferne, dilecto nepoti fuo Andrew Denune, &c. of the lands and barony of Catbole, in Rossshire, for a certain sum of money paid to him by the said Andrew. The charter is dated in 1534, as before observed, and the confirmation is dated the penult day of September 1604. He got another charter, Andrew Denune de Catbole, &c. of the lands of Milntoun of Ferne, dated in September 1594. Also a charter of confirmation upon the resignation of the above John Denune of Catbole, To and in favours of his beloved brother, Andrew Denune, of the lands of Hilton, commonly called Ballocknock, in Rossshire. The resignation is dated 12th March 1589, as before mentioned, and the confirmation 11th June 1611. He died before the year 1620, and left issue a son and successor,
John Denune, fifth baron of Catbole, a man of singular merit, a faithful and loyal subject to King Charles I, who spent the greatest part of his paternal estaste in his majesty's service, and dying before the restoration of King Charles II, had no opportunity of getting any redress. He left issue a son and heir
Norman Denune Esq; who inherited all his fathers virtues, but little or none of his estate. He married Catharine, daughter of sir Hector Munro of Foulis Bart, by whom he had 2 sons, 1) Norman. 2) Mr. William, of whom more afterwards.
Norman Denune, eldest son of the above Norman, married a daughter of ____ Ross of Balnagowan, by whom he had a son, Walter Denune Esq; whose only son ____ is settled in the East Indies.
Mr. William Denune, second son of the first Norman, a man of parts and learning, and being bred to the church, was minister of the gospel at Pencaitland, in East Lothian, where he married Isabella, daughter of Doctor George Hepburn of Moncraig, Esq; by Helen his wife, daughter of sir Alexander Swinton of that ilk, and by her he had one son, George; and several daughters, 1) Christian, married to James Hepburn Congalton Esq; chief of the ancient family of the Congaltons of that ilk in East Lothian, without issue, 2) Mariamne, married to sir John Bruce-Hope of Kinross, baronet, by whom she had one son, John, who died in infancy, and a daughter, Anne Bruce-Hope of Arnot, who is now heir of line of the Hopes of Craighall, Bruces of Kinross, &c. Mr William's other daughters died unmarried.
George Denune Esq; his only son married Isabella, daughter of Alexander Edgar younger of Wedderley Esq; by whom he had one son, William Denune Esq; a youth of great hopes and spirit, who died in the flower of his age, unmarried. George had several other children, of whom there is only one daughter, Janet, surviving.
The Baronage of Scotland, containing an Historical and Genealogical Account of the Gentry of that Kingdom: Collected from the Public Records and Chartularies of this Country; The Records and Private Writings of Families; And the Works of our Best Historians. By Sir Robert Douglas of Glenbervie, Baronet. Illustrated with Engravings of the Coats of Arms. Edinburgh; Sold by Bell & Bradfute, W. Creech, J. Dickson, E. Balfour, P. Hill, W. Laing, A. Guthrie, J. Watson, Manners & Miller, and A. Constable; and by Cadell & Davies, London, 1798